Backpacking through Asia and Back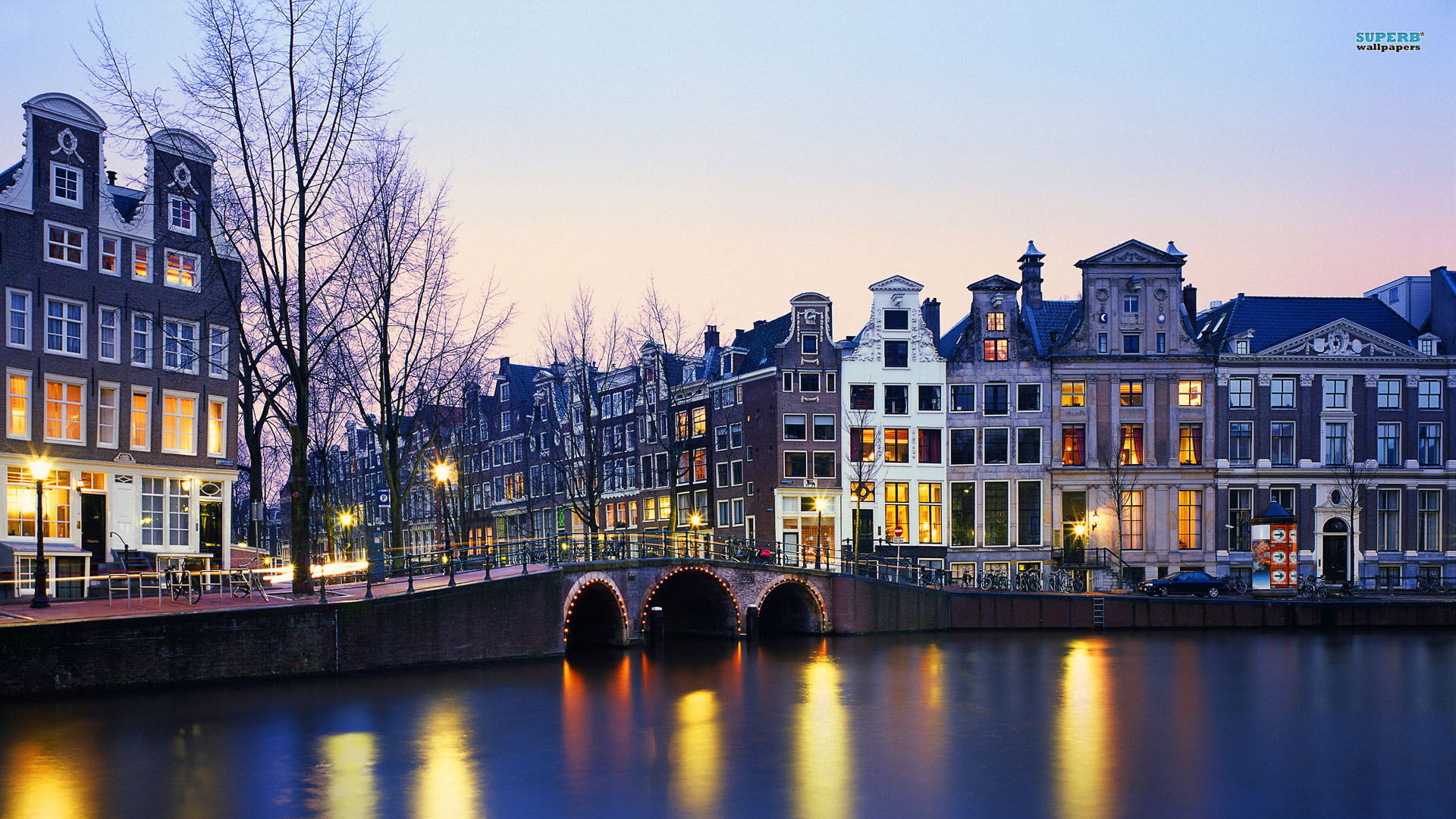 Amsterdam. Indeed, what you might see about this city in movies might actually be true. Before checking it out for yourself, put that backpack down and get to know some facts about the place.
Engels? Geen probleem!
Like most of the Netherlands and Scandinavia, you do not have to worry about asking strangers if they understand English. So you have not brushed up on your Dutch. The Dutch hold themselves in high esteem that they are able to communicate using the second most widely spoken language in the world. That, of course, is only in addition to German, maybe French and Spanish. Asking them if they can speak English might even offend someone slightly.
Tour the city for free
Free walking tours around the city of Amsterdam were patterned after a similar one in Germany. They are actually free; guides will inform you that they are doing the tours for tips and any amount is welcome. The entire tour lasts for about three hours with two schedules each day. Groups converge at Dam Square, will take you through the Red Light District (groups are quite sizable so the pack makes it feel a little less awkward walking down these streets), more historic neighborhoods, and near the Anne Frank House.
The Red Light District
In the Netherlands, prostitution is legal as it is in other countries in Europe. The attraction starts around eight in the evening. If that serving is a little bit too aggressive for your liking, the area is fairly tame and almost normal during the day (aside from the occasional adult toy store).
Smaller beer servings
You heard that right! Beer is served in half-pint glasses (250 ml). The Dutch argues that enjoying a smaller glass of beer means the brew stays colder far longer and it does not go flat in a jiffy. The price should not intimidate you as the small glasses are almost always exactly fifty percent of the price of their 500 ml counterparts.
Smoking tobacco is a crime
The Amsterdam Smoking ban was implemented on the first of July 2008. This has forced coffee shops to have a tobacco smoking zone and a tobacco-free one while small coffee shops that are not able to accommodate tobacco smokers in an exclusive cubicle were forced to hang their aprons.
Read More
Traveling all around the world can be quite an adventure. It will allow you to meet a lot of new people and find comfort in new tastes, new smell, and new culture. It will be a learning experience for you as you explore the different lifestyles and tradition each places you visit offers.  Each place or country you visit has its own creativity and artistry found in its architecture, paintings, and other work of art in the area.  It will be a lot of fun however there will also be some misadventures every now and then.  Not all trips are perfect but each mishap is always part of the whole traveling experience so embrace it and learn from it.
What kind of misadventures do travelers usually deal with?  There are many variations of misadventures a traveler encounter during his or her journey.  It could be a missed flight, or eating different weird looking delicacies or specialty foods, not to mention some communication barriers that one experiences when speaking to the natives that can surely cause some misunderstandings and conflicts at times.  A few have also taken the wrong bus or train ending up to a totally different location with no background and no one to ask help from.  So these are just a few of the misfortune travelers experience during their quests.
Read More
Are you a travel buddy? You can't stay from one same place and there really is a need for you to travel? Do you like camping, nature, rivers, and some waterfalls? Well then, the perfect place for you is Kimberley, Australia.
But before going to Kimberley, there are things that you need to know and you need to prepare.
The first thing that you need to do is to create a checklist of what you need to bring and what you need to do before traveling.
Decide whether you will bring a backpack or a suitcase. Think, Kimberley is a eco-friendly and natural place where there are a lot of trees, mountains, and rivers. Thus, traveling with a suitcase is uncommon. Most travelers of the place bring backpack and tents to stay out camping.
Read More
If you've been planning to go on your next backpacking trip, perhaps you'd like to visit one of Europe's biggest cities—London. Although it is a very expensive city, this fast-paced, energetic and multicultural city is usually most backpackers' gateway to Europe. It has a rich history with numerous vestiges of its imperial past but facing the future with a sundry population and loads of attractions.
Despite the fact that this beautiful city may be too expensive for a backpacker on a tight budget, you can still greatly enjoy London with its affordable and frequent transport connections to the rest of the UK and Europe. There are also several cheap places to eat, stay, and visit that will have you coming back for more of London.
 Accommodations
When visiting London, your first main concern will have to be a sure place to stay. You'll have to find yourself a hotel or hostel accommodation unless you have a relative or friend in London—which is a big money-saver!
There are so many hotels, bed and breakfast and hostels found all around the city. They differ in rates, locations and services and the one you choose may largely depend on your budget. If you have the cash for it, you can splurge it on lavish accommodations like luxury hotels or the 5 star hotels—there is plenty of it around the city. But staying in London need not be overly expensive. You can still enjoy and experience comfort on a slim budget. London offers many hostels and backpackers' hostels for you to choose from. They offer affordable accommodation that is definitely perfect for young travelers and tourists who are on a tight budget. An alternative option for tourists with limited budget is the campus accommodations.
Handy Tips:
Instead of going around looking for vacancies at the last minute, it's much better to have booked a place to stay in advance. It's a hassle and quite annoying for you to go around the city while bringing along a big back pack. So when you do arrive in the city, go straight ahead to the hostel you booked.
For safety purposes, make sure to lock your backpack and valuables while leaving it at the hostel.
Take with you a day rucksack or a handbag which you'll need for those essential bits to carry on trip outs.
When booking, be sure to look very closely to what each hostel provides and what it provides for no cost. Make sure to go through the customer reviews, ratings as well as description and other important information of each hostel.
Be sure to jot down all the essential information on how to find and get to the hostel before you arrive in the city.
Transportation
London Transport includes the Underground or the tube, buses, Docklands Light Railway (DLR), licensed taxis and minicabs, river transport and tram routes. The London Overground, which is a train service, is also increasing in number and is now part of the London Transport network.
Handy tips:
Before going to London, do some little research to get useful information about timetables, fares, maps, travel conditions and so on. You can even buy tickets online even from abroad. You can also get an invaluable tool for finding the best route to your destination. That's usually useful for planning bus trips as it will tell you the name of the stop to get off so you won't have to miss your stop by miles.
Get an Oyster card, the electronic travelcard that is useful if you plan on doing a substantial amount of traveling by public transport in London. You can use it on the Underground, the DLR, all buses, trams, some overground train services and some boat services. To get one, go to your local Underground station ticket office.
Things to do in London for Free
Museums
All of London's National Museums are free although some may charge extra for special exhibits. The popular ones in the city are British National Museum, the National History Museum, and the Science Museum.
Galleries
If you are interested in seeing some good art, there are some free art galleries in the city. Among the most popular are the Tate Modern and Tate Britain galleries.
Parks
One thing that you'll definitely like about London is the lush parks around. There are many nice green spaces that the people actually use. Near Buckingham Palace, the Green Park is terrific. Other nice places to wander are Massive Hyde Park and the neighboring Kensington Gardens.
The Waterfront
To catch a view of some of the most popular sights, the waterfront is the destination to be. Across the bridge from the legislature buildings you have the London Eye as well as a number of museums and patios while watching street performers entertaining.
Markets
Although not apparent, London has some really good markets in town. You can have a stop at Camden Market, Portobello Market and Petticoat Lane Market.
Theater
If you're into performing arts and theater, there are all sorts of cheap London theater breaks available.
Other Things You Should Know When In London
In Britain, they drive on the left hand-side of the road so keep that in mind when crossing the road
Be prepared to meet all sorts of weather. If you decided to do a day of walking around the city and then it suddenly rains, you'll need to have a backup plan for visiting indoor attractions like a museum or a theater.
Be knowledgeable of the exchange rate for money and use ATM's or banks for exchange. It's advisable not to change your money at the airport. But if you need to, then change only a small amount.
Although London does not have a high crime rate than other major cities, don't try showing off money, jewelry, mobile phone and others valuables in public places. Don't go to areas far from the tourist spots unless you know where you're going or you're with someone who does.
In case of emergency, the service number is 999—for police, fire department or ambulance.
A handy tool for your touring around is a pocket street-map so make sure to acquire one when you get to the city or get one from your hostel if they provide one for free.
Visiting London need not rip off your pockets. It doesn't matter where you stay, where you eat or where you tour to. At the end of the day, you will still feel the same serenity and joy as the other tourists and travelers.
Read More
When planning for your perfect summer or holiday getaway, you want one that will give you the ultimate fun experience while sticking to your budget, or better yet, paying less than what you expect. There are many ways to slack off expenses when traveling. Here are some ideas that might just come in handy for your pending trip.

Do some homework and plan ahead. Just because you're traveling cheap doesn't mean that you also get a cheap quality trip. Say goodbye to nightmare experiences and horrible package tours by carefully planning ahead of time and doing some quality research. The expensive part in traveling comes from transportation and accommodation. With that said; try to patiently score some cheap plane tickets. If you want a better option, you can also go for a private jet for hire. Many think that such transportation is very expensive. But there are several plane charter companies today that offer a reasonable price. A private jet hire service is perfect especially if you're traveling in groups. With a private jet, you can fly in from one place to another in your own schedule and in your own choice of destination.
Find an alternative. Usually, when it comes to accommodations, hotels eat up a large amount of everyone's travel budget. There are several other alternative accommodations that you can try. Renting an apartment, condo or house is always cheaper than hotels. You can also get to maximize and enjoy your stay because you the place to yourself and you can make use of a kitchen that will make you feel like you are in the comforts of your own home. You can also try hostels that have gone upscale and offer private, tasteful rooms and classy amenities.
Decide where to go. It's best to also plan ahead of time the destinations you wish to visit. For instance, if you want to hit the beach, you can research ahead of time the best ones around the area or you can on-the-spot ask locals which beach you can lounge about especially the ones with amenities that can provide different water or beach activities. Going around the city and visiting tourist spots can also save you some few bucks if you avail quality package tours. You can also choose to keep yourself from spending money by going for a nature-filled sightseeing or touring. Finally, you can ask around some inexpensive but highly enjoyable activities you can do around town.
Traveling doesn't always have to be expensive. It just takes a creative mind and a whole lot of guts to score some cheap deals. You can still experience tremendous fun and keep a memorable trip even if you're paying less.
Read More